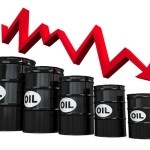 It's like watching dominoes fall these days. Bitvore for Munis is picking up a chain of independent media outlets reporting the budget impact caused by that falling oil prices. Long Beach, Kern County, Lousiana, Oklahoma, North Dakota so far.
The press is colorful with their sensationalism on this one:
"Massive"
"Cratering"
"Blow Up"
Check these out just from the last few days.
Cratering oil prices forcing Long Beach to look at budget
North Dakota Faces Massive Budget Shortfall from Lower Crude Prices
Oklahoma latest state to face budget issues due to

oil

prices
Declining

Oil

Prices Blow up Kern County's Budget
Louisiana State Budget Feels the Squeeze With Dropping Oil Prices