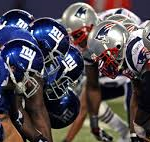 Yeah, we know its still preseason, but we can't help it. It's football season! Crisp fall air (ok, so it's 95 degrees today, but whatever), kids are going back to school and ESPN is on round the clock. The average viewer probably doesn't get too excited about preseason. After all, it's mostly for the players to get into game shape, game speed and get into tempo. But for true football fans it's the official start of Fantasy Football, buffalo wings and armchair quarterbacking. In fact, just the other day, we watched an interesting debate about "what really wins championships" – a good defense or a good offense.
Chris Berman (commentator) himself pointed out on ESPN's Sunday NFL Countdown, 38 (out of 45) Super Bowls have been won by a top 10 defense and 22 have been won by a top three defense. The sentiment has hardened from cliché into an article of sports law. But is it actually true? Does defense really win championships? In a word: no.
Because apparently, when it comes to winning a football title, or winning in business in general for that matter, offense and defense carry nearly identical weight. For example, here's what Berman didn't tell you: the number of Super Bowl champs with a top 10 offense? Thirty-eight. And a top 3 offense? Twenty. In other words, offense wins championships, too.
So why are we talking so much about football in a tech blog? Well, we think that there's a lot in common with the idea of a good offense and a good defense working together, especially in the Muni space. What happens when one area is a little off?
Great defense, lousy offense:
In the Muni world, most muni teams have great defensive tools, such as rating agencies. Those agencies help to give a 3rd party objective analysis that can back up many of your own decisions. Yet unfortunately, those rating agencies aren't offensive tools. They are slow to update their decisions (not as slow as EMMA filings but days, weeks or months after the early signs of problems). Of course, they also only cover a fraction of the bonds so they leave large pieces of the playing field undefended. And it's not really "offense" if everyone is getting the same info at the same time.
Great defense, Great offense
In the Muni world, a great offense can include a lot of things. But we think the main one is about having a deep level of knowledge and information. It's about having an early warning system that gives you timely, on-point news about changing conditions inside of your portfolio. And since we're talking about football, consider this: Bitvore supplements your quarterbacks so they can move faster and outperform firms who rely on Me-too information services. And Bitvore covers every single obligor in your portfolio. Every. Single. One.