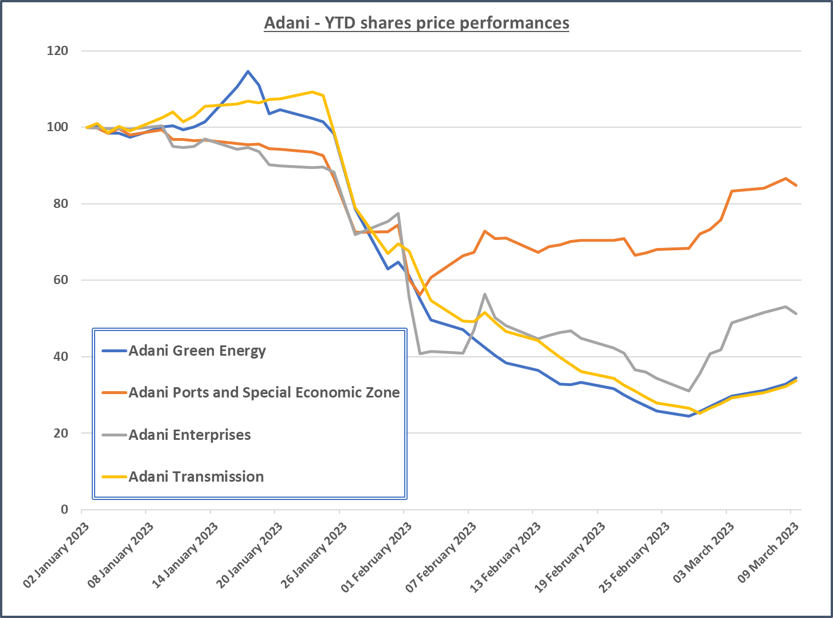 Adani Group's shares surged last Friday after a $1.87 billion investment in the group by GQG Partners Inc reduced concerns about the group's ability to attract funding.
The stakes purchased by the investment firm marked the first major investment in billionaire Gautam Adani's conglomerate since a U.S. short-seller Hindenburg Research critical report resulted in seven of the Indian group's listed firms at one point losing over $100 billion in market value.
In the January 24th report, Hindenburg cited high debt and alleged improper use of offshore tax havens and of "brazen stock manipulation and accounting fraud scheme over the course of decades." The ports to energy conglomerate vehemently denied wrongdoing calling them "nothing but a lie" from the "Madoffs of Manhattan" in a 413-page riposte.
India's top court last week asked market regulator SEBI to investigate the Adani Group for any lapses related to public shareholding norms or regulatory disclosures.
Norway's largest pension fund, KLP, had fairly recently sold its entire holding of shares in Adani Green Energy Ltd., the renewables part of the conglomerate, amid concerns that it might inadvertently have helped finance some of the world's most polluting activities via the stake. A February 10th public filing has since made clear that Adani is using stock from its Green companies as collateral in a credit facility that's helping to finance the Carmichael coal mine in Australia, via Adani Enterprises Ltd. Coal is blacklisted from KLP's portfolio.
"Investments in other parts of the Adani Group are leaking into the funding of Carmichael," said Ulf Erlandsson, chief executive of Anthropocene Fixed Income Institute, which has been tracking the Adani Group since mid-2020. "Investors who have restrictions on funding greenfield thermal coal mining should revisit potential exposures across the whole of Adani Group."
The Carmichael coal mine, located inland from Australia's iconic Great Barrier Reef in Queensland, has become a key focus for climate activists over the environmental destruction the facility represents. Pushback has also come from banks, insurers and investors, amid alarm at the mine's carbon footprint.
More than 500 funds registered as "promoting" ESG goals hold Adani stocks, either directly or indirectly, according to data compiled by Bloomberg, many of which are index tracking funds. MSCI Inc. gives Adani Green a rating of A, and the entity is included in several of its ESG and Climate indexes. S&P Global Inc. announced in early February that it was removing Adani Enterprises from its Dow Jones Sustainability Indexes. Sustainalytics has downgraded the ESG scores of several Adani companies. MSCI recently stated that it will start reviewing holdings in ESG indexes more frequently.
The Adani Group is now busy with investor road shows in London and Dubai, with more meetings scheduled in several cities in the United States next week. Adani said that GQG bought 3.4% of Adani Enterprises Ltd for about $662 million, 4.1% of Adani Ports and Special Economic Zone Ltd for $640 million, 2.5% of Adani Transmission Ltd for $230 million and 3.5% of Adani Green Energy Ltd for $340 million last week. GQG Chairman and Chief Investment Officer Rajiv Jain told Reuters the firm had carried out its own "deep dive" into Adani and disagreed with Hindenburg's report. However, the stake purchase has allegedly already raised queries from an Australian pension fund client of GQG, at a time when major investors, including Norway's sovereign wealth fund, had sold the stock. Increasingly investors in funds are requiring detailed explanations of individual stock selections that may go against their stated core beliefs.
Trusted by more than 70 of the world's top financial institutions, Bitvore provides the precision intelligence capabilities top firms need to offer transparency, counter risks and drive efficiencies with power of data-driven decision making and reporting.
The following snapshot of the Bitvore relationship mapping relating to the Adani Group, from our analysis of unstructured data, illustrates the complexity and reach of the group's activity.
Our clients uncover rich streams of risk and ESG insights from unstructured data that act as the perfect complement to internal data and insights firms are already generating. Our artificial intelligence and machine learning powered system provides the ability to see further, respond faster, and capitalize more effectively.
Get in touch today to learn how Bitvore's solutions can help your organization at support@bitvore.com or www.bitvore.com