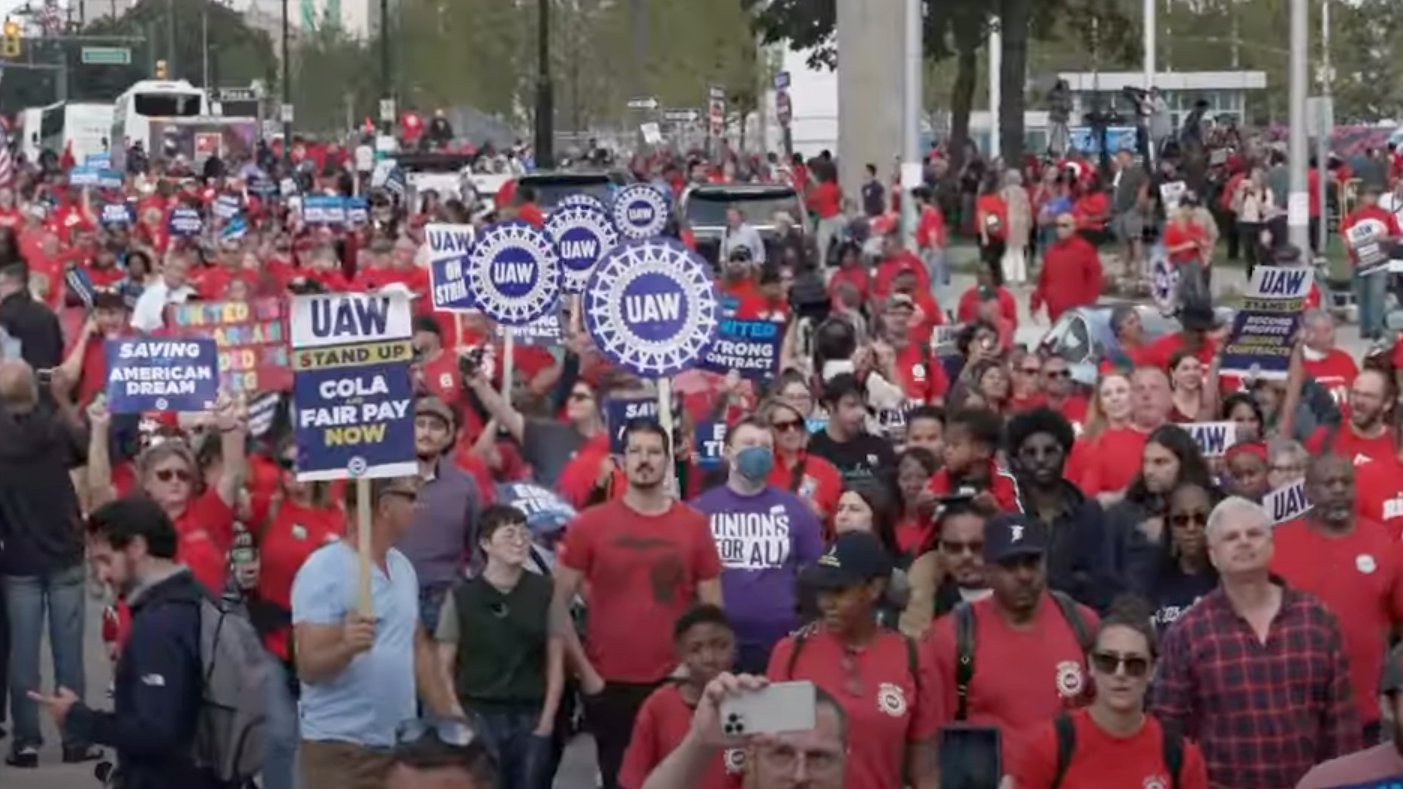 Detroit's Big Three automakers and the United Auto Workers (UAW) remained far apart in labor negotiations, less than 24 hours before the union's deadline to make progress or escalation of strikes and potential downstream supplier layoffs.
Talks continued between union representatives and company management but there were few signs of significant progress, with Detroit automakers increasingly outspoken in rejecting the UAW's demands that include a 40% pay hike, a 32-hour work week and an end to a tiered wage structure that pays newer workers less.
The UAW launched a strike against Ford, GM and Stellantis last week, targeting one U.S. assembly plant at each company. Those strikes have halted production at plants in Michigan, Ohio and Missouri.
The standoff is fuelling worries about prolonged industrial action that could disrupt production and ripple through the supply chain and dent U.S. economic growth.
Stellantis on Wednesday joined GM and Ford in furloughing some employees at other factories because of the ripple effects of the strikes, including parts shortages, storage constraints and other issues.
Detroit-based LM Manufacturing, a joint venture between LAN Manufacturing and Magna, said on Wednesday that they temporarily furloughed 650 workers that produce seats for the Ford Bronco because of the impact of the assembly plant closure.
The Union's Position
UAW President Shawn Fain has said Detroit automakers have not shared their huge profits with workers while enriching executives and investors. "It's a shame that the companies didn't take our advice and get down to business," Fain said on Sunday. "They did what they always do, they delayed until the very end, to the last week, and then they want to get serious about this."
Fain said the union will make sure that affected workers continue to have an income and called the temporary layoffs as a strategic attack to hasten negotiations. A strike fund is set up to cover UAW members temporarily laid off and Senate Bill 501 allows workers temporarily laid off due to manufacturing shutdowns to continue receiving unemployment benefits without searching for a new job. The funds and unemployment don't match what many workers currently earn.
The strike currently involves less than 9% of UAW membership at the three companies. But more workers could go on strike at a moment's notice, depending on how negotiations go.
"Let's be clear: if the Big Three decide to lay people off who aren't on strike, that's them trying to put the squeeze on our members to settle for less," Fain said Saturday in a statement. "With their record profits, they don't have to lay off a single employee. In fact, they could double every autoworker's pay, not raise car prices, and still rake in billions of dollars."
The UAW has selected plants as part of targeted strike plans, as Fain and UAW leaders unconventionally negotiate with all three automakers at once. It's calling the work stoppages "stand-up strikes," a nod to historic "sit-down" strikes by the UAW in the 1930s.
"The 'Stand Up Strike' is a new approach to striking. Instead of striking all plants all at once, select locals have been called on to 'Stand Up' and walk out on strike. If the automakers fail to make progress in negotiations and bargain in good faith going forward, more locals will be called on to Stand Up and join the strike.
Targeted strikes typically focus on key plants that can then cause other plants to cease production due to a lack of parts. They are not unprecedented, but the way the union is conducting them is not typical.
Industry Reaction
GM President Mark Reuss on Wednesday rejected claims by the union that the record profits automakers make go toward fuelling "corporate greed," saying they have been reinvested in electric vehicles as well as gasoline-powered cars. In the opinion piece published in the Detroit Free Press, Reuss also called UAW's demands for a 40% pay hike "untenable," signalling the two sides remain far apart over the key issue. The three automakers have proposed 20% raises over 4-1/2 years.
The impacts are already being felt. Ford Motor Co. has temporarily laid off 600 employees from the Michigan Assembly Plant in Wayne. General Motors has announced that it will be idling a plant in Kansas, which is expected to put around 2,000 people out of work.
CIE Newcor, an auto supplier, has said that 293 layoffs are possible starting on October 2nd in response to UAW members striking at three auto plants, according to a Worker Adjustment and Retraining Notification (WARN) filing. If this layoff happens, it would be one of the first parts suppliers to take action as a result of the UAW's strike.
Another supplier, ZF, which supplies components for all vehicles made at the three targeted plants, including the hybrid transmission for the Jeep Wrangler 4xe hybrid made at the Toledo facility, has already laid off some workers at sites in Michigan and in other states, Tony Sapienza, ZF North America, Inc.'s head of communications, told the Detroit Free Press on Monday. Sapienza declined to say which of its facilities have been affected or how many people ZF has laid off. ZF, based in Germany with North American offices in Northville, employs 11,000 people at five manufacturing sites and four technology centers in Michigan.
General Motors similarly said the strike at Wentzville Assembly in Missouri was already having "a negative ripple effect" at the rest of its Fairfax assembly plant in Kansas. The company warned that 2,000 Fairfax workers are expected to be out of work by early next week. "This is due to a shortage of critical stampings supplied by Wentzville's stamping operations to Fairfax," General Motors said in a statement. "We are working under an expired agreement at Fairfax. Unfortunately, there are no provisions that allow for company-provided SUB-pay in this circumstance."
When a factory is idled because of supply chain issues, companies typically give partial pay to its non-striking workers. But in this case, Ford and General Motors have said there will be no such compensation.
The ongoing walkout at mid-sized truck factories is likely to benefit rival Toyota Motor, which does not have unions at its U.S. factories and is about to launch the redesigned Tacoma pickup trucks. Tesla investors have said a potential hike in wages and benefits at Detroit competitors would widen the EV giant's labor cost structure advantages.
Many commentators feel the strikes are highly likely to last several weeks, negatively impacting U.S. gross domestic product and causing significant upheaval across global automotive supply chains.
Miss Nothing With Bitvore's Automated Intelligence
Trusted by more than 70 of the world's top financial institutions, Bitvore provides the precision intelligence capabilities top firms need to counter risks and drive efficiencies with power of data-driven decision making.
Uncover rich streams of risk and ESG insights from unstructured data that act as the perfect complement to the internal data and insights your firm is already generating. Our artificial intelligence and machine learning powered system provides the ability to see further, respond faster, and capitalize more effectively.
To learn how the Bitvore solutions can help your organization contact info@bitvore.com or visit www.bitvore.com.