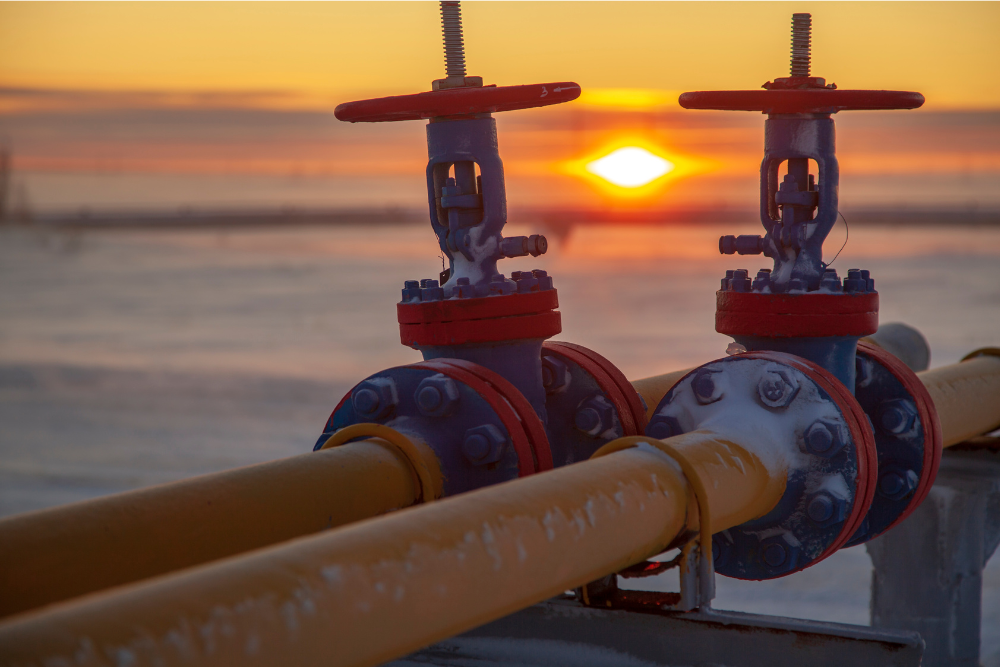 Gas prices have soared after Russia further cut gas supplies to Germany and other central European countries after threatening to earlier this week. European gas prices are up almost 2% trading above an earlier all-time high after Russia invaded Ukraine. Critics accuse the Russian government of using gas as a political weapon.
On Monday, Russia's state-owned gas company Gazprom said it would cut flows through the Nord Stream 1 pipeline to Germany in half, to just 20% of its capacity. A US official said the move was retaliation for western sanctions, and that it put the West in "unchartered territory" when it comes to whether Europe will have enough gas to get through the winter.
In response to the turmoil, the White House dispatched presidential coordinator for global energy Amos Hochstein to Europe on Tuesday, officials said.
The Biden administration is working furiously behind the scenes to ensure European allies remain united against Russia as Moscow further cuts its energy supplies to the European Union, prompting panic on both sides of the Atlantic over potentially severe gas shortages heading into winter.
"This was our biggest fear," said the US official. The impact on Europe could boomerang back onto the US, spiking natural gas and electricity prices, the official said. It will also be a major test of European resilience and unity against Russia, as the Kremlin shows no signs of retreating from Ukraine.
The US and Brussels have been strongly advising EU members to save gas and store it for winter, and on Tuesday, energy ministers agreed in principle to cut gas use by 15% from August to March.
Ukraine has accused Moscow of waging a "gas war" against Europe and cutting supplies to inflict "terror" on people.
The latest reduction in flows puts pressure on EU countries to reduce their dependence on Russian gas even further, and will likely make it more difficult for them to replenish their gas supplies ahead of winter.
Since the invasion of Ukraine European leaders have held talks over how to reduce its dependence on Russian fossil fuels. Across the EU, the heat is on to conserve supplies, build up reserves and see off competition from the likes of China to secure alternative sources for the 40% of its gas it gets from Russia - all ahead of winter.
Trusted by more than 70 of the world's top financial institutions, Bitvore provides the precision intelligence capabilities top firms need to counter risks and explore opportunities with power of data-driven decision making. Bitvore's AI-powered surveillance platform has been tracking the decline in sentiment surrounding the Oil & Gas industry. Significant weekly drops in article sentiment were noted over the past two weeks as highlighted below. Bitvore's risk score for Gazprom has changed significantly since the onset of the war in Europe in February. As more policy changes come out of Moscow, Bitvore will continue to track the impact on supply chains, consumers & sentiment.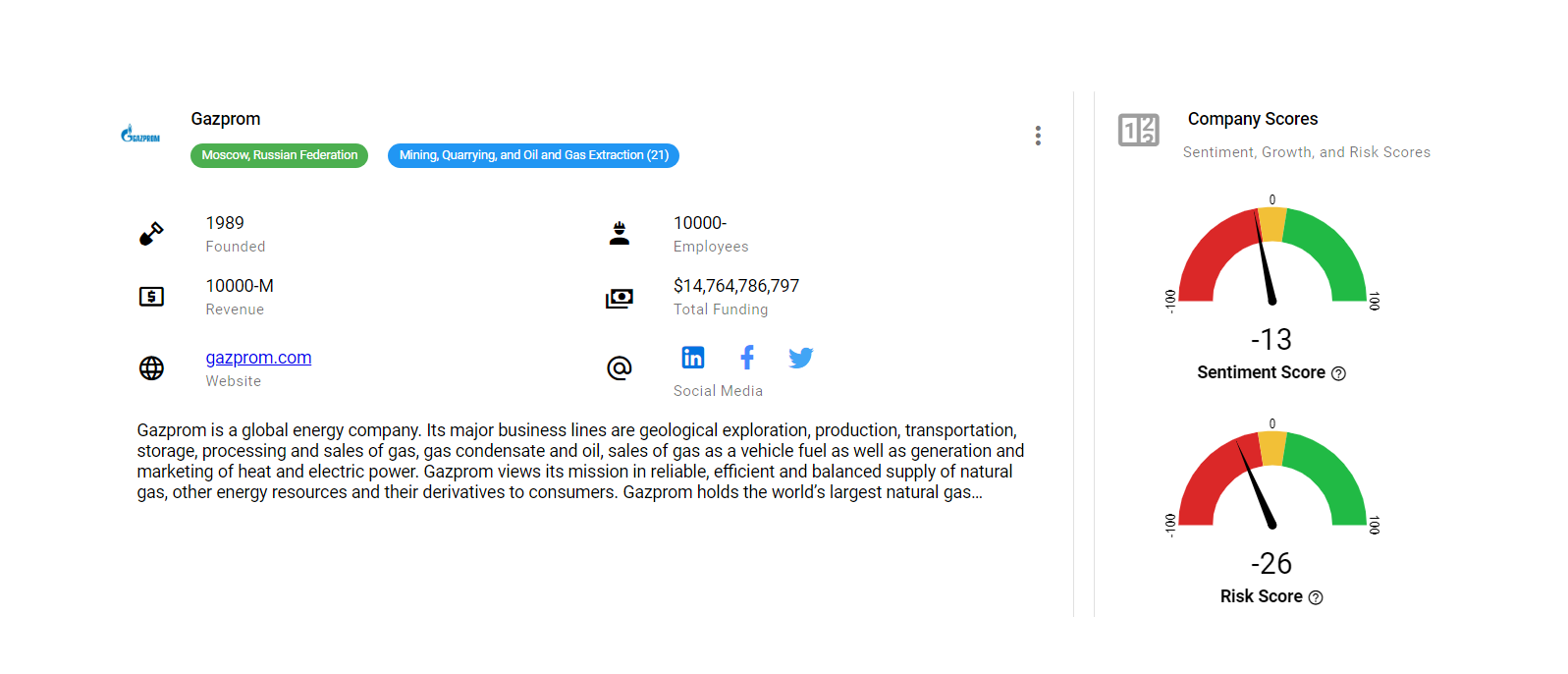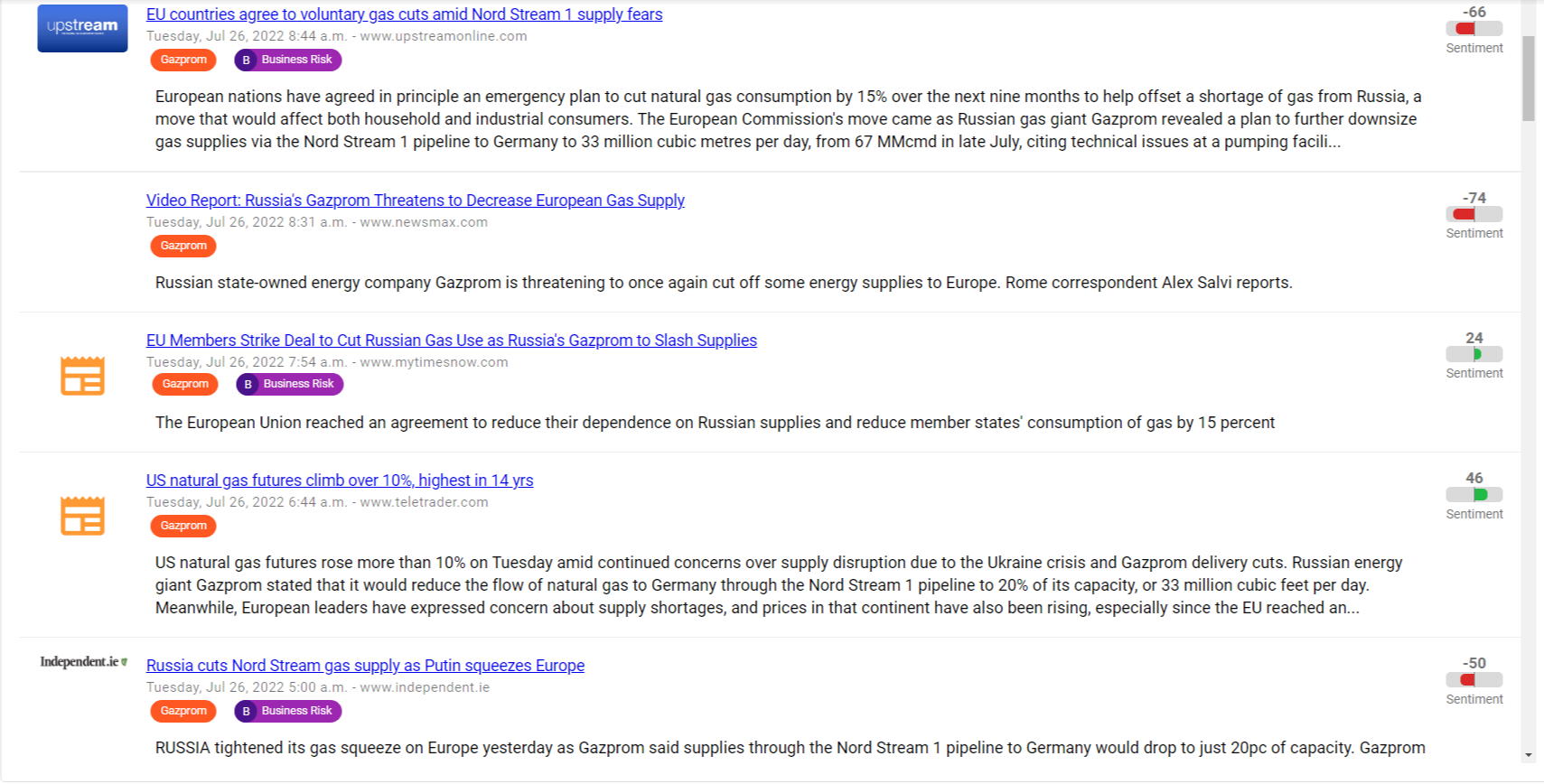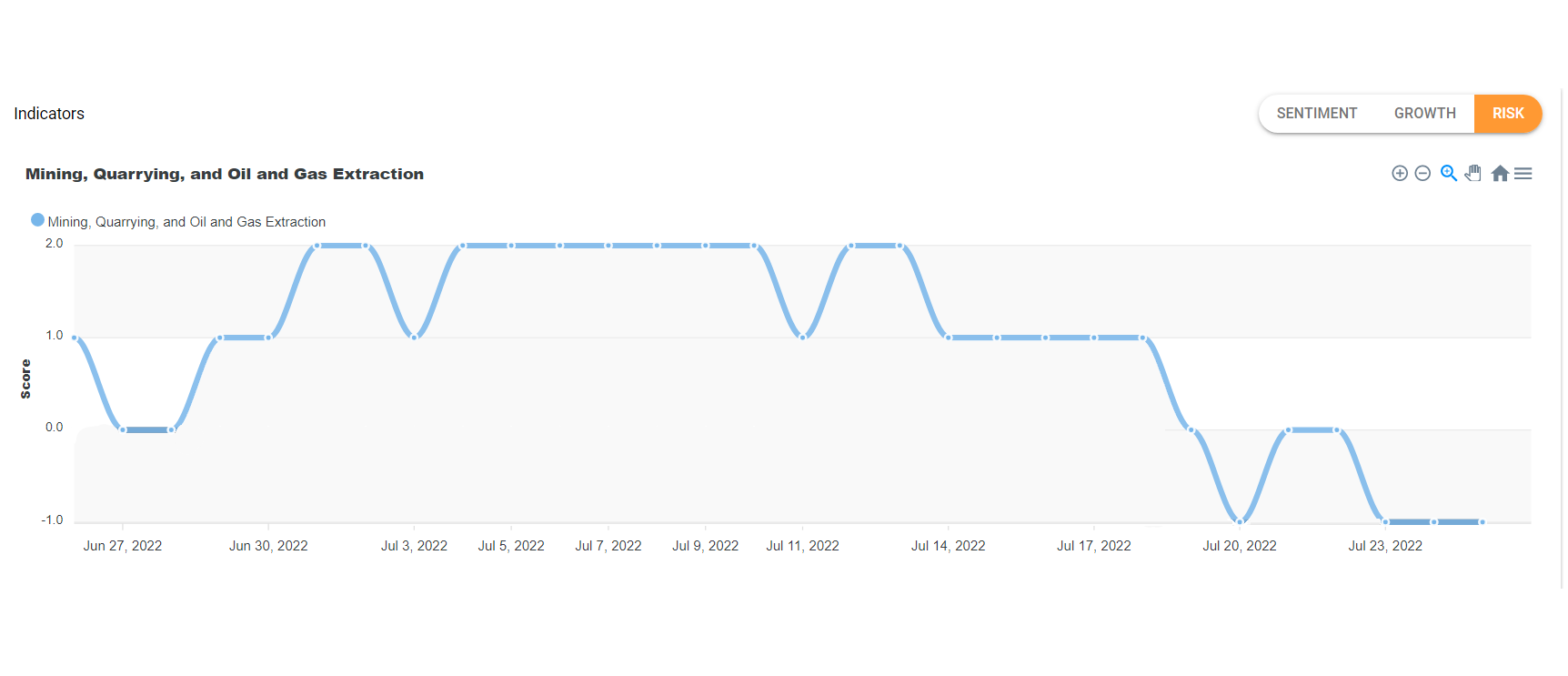 Uncover rich streams of ESG and risk insights from unstructured data that act as the perfect complement to the internal data and insights your firm is already generating. Our artificial intelligence and machine learning powered system provides the ability to see further, respond faster, and capitalize more effectively.
Get in touch today to learn how the Bitvore family of products can help your organization at www.bitvore.com.