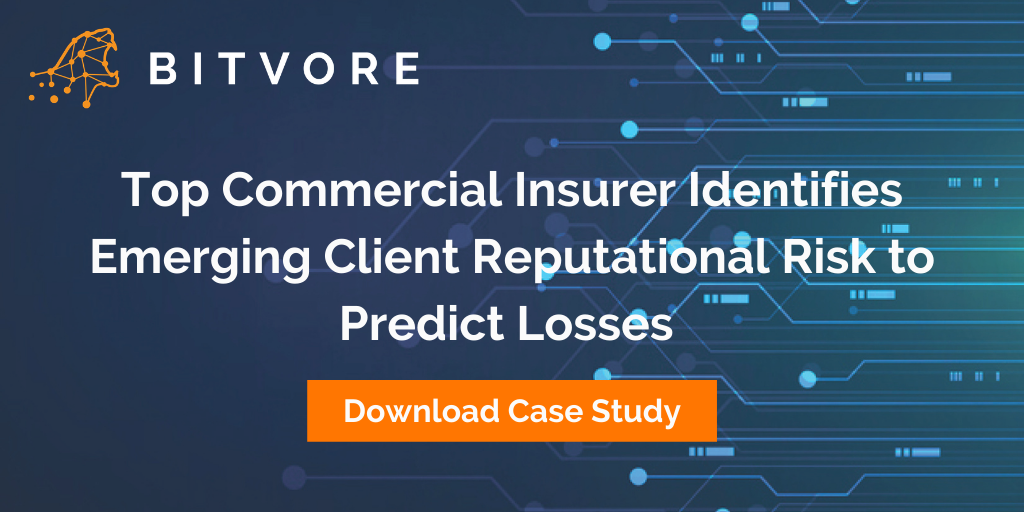 The Data Science Lab and AI Innovation Center of one of the top commercial insurers contacted Bitvore about leveraging Bitvore Cellenus to surveil clients for emerging reputational risk to enhance predictive modeling of potential losses.
The Problem
Identify emerging risks for clients of Commercial Insurance, Workers Comp and Employee Benefits solutions.
The Solution
Identify emerging client reputational risks
Model predictive likelihood of a legal risk and predict losses
Identify leadership change metrics – Executive Change signal support
Identify detailed Legal and Business Risk material events (e.g., Sanctions, Regulatory Issues, Corruption/Fraud, Legal Investigations, Lawsuits, etc.) •
Identify emerging ESG-related issues to support reputational risk assessment


Know First, Act First
Get leading indicators of material changes affecting companies, industries, markets and emerging themes. With Bitvore Cellenus you'll have the competitive advantage of leading indicators, so you'll act first.
Bitvore Provides
Comprehensive, Clean and Normalized Data
Over 60K High Quality Sources
Over 20K Licensed Sources
Over 100 Material Business Events
Comprehensive ESG Signal Set
Delivery via API and File Download
Company Sentiment Scoring
Company Growth and Risk Scoring
Industry and Market Insights
5 years of Historical Content


Download the PDF version of this case study below!