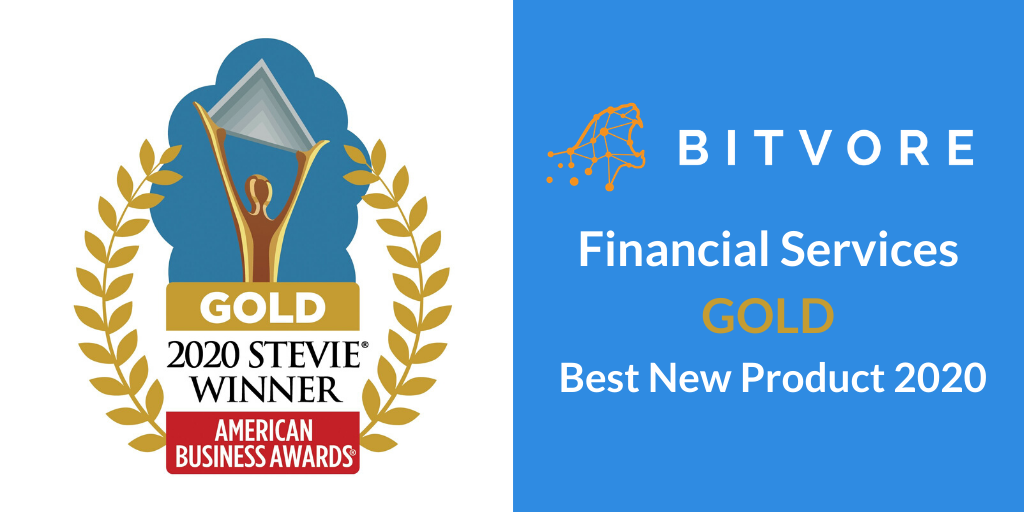 The Bitvore Cellenus® AI-powered platform is honored as Best New Product/Service for Financial Services!
Bitvore was named a Gold Stevie® Award winner for Best New Product/Service in the Financial Services category at The 18th annual American Business Awards®.
"We're honored to receive this recognition as a Gold Stevie® Award winner," said Jeff Drake, CEO, Bitvore. "Bitvore Cellenus' unique, AI-based analytics solution helps financial services analysts, relationship managers, portfolio managers and data scientists by providing leading indicators of company growth, risk and sentiment, helping them to better manage portfolios and customer relationships."
More than 3,600 nominations from organizations of all sizes and in virtually every industry were submitted this year for consideration in a wide range of categories, including Startup of the Year, Executive of the Year, Best New Product or Service of the Year, Marketing Campaign of the Year, Live Event of the Year, and App of the Year, among others.
Bitvore Cellenus is a groundbreaking AI-powered platform that delivers leading indicators of business performance for companies, industries and markets. Bitvore Cellenus ingests massive amounts of unstructured data (including news, press releases, SEC filings/proxy statements, earnings call transcripts and more) and uses advanced NLP and machine learning to provide data sets that include material business events, trended sentiment, growth and risk scoring, as well as comparative/ predictive analytics to drive better business outcomes. Consumable through file downloads, a comprehensive API and research user interfaces, Bitvore Cellenus provides customers with the "crystal ball" needed to identify emerging risk and opportunity.
Judge's comments:
"Bitvore Cellenus is a powerful tool that gives its users an exceptional advantage in predicting business performance. It will be difficult to compete with companies utilizing this tool."
"Using the right AI, especially for unstructured big data and putting that to the best slices of usable data for predictive analysis is what more businesses are adopting. It's the right step forward. Bitvore is establishing itself as the central force, providing unprecedented business insights from such data. This Indicative AI will bring out the best opportunities and decision making will be made much easier."
More than 230 professionals worldwide participated in the judging process to select this year's Stevie Award winners.
We are also up for a People's Choice Stevie® Awards for Favorite New Products in the Financial Services category. Vote for us below!