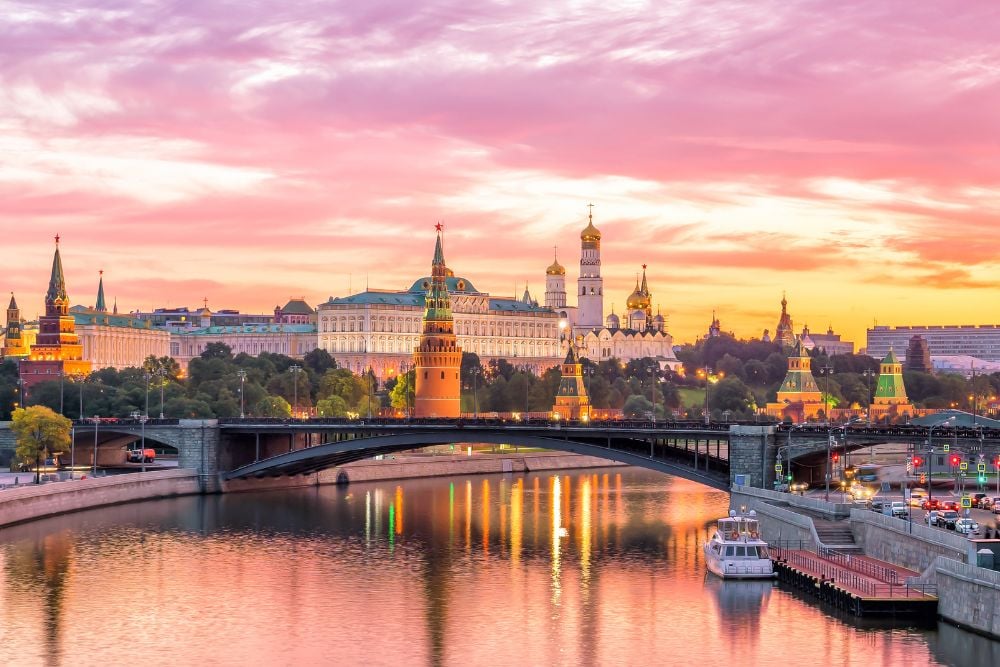 While the war between Ukraine and Russia stretches toward its sixth month, the financial ramifications around Russian sovereign debt repayments are just getting started. International sanctions, a consequence imposed against Russia in protest of the country's invasion of Ukraine, have potentially led to Russia's first foreign debt default since 1918.
A bond repayment scheduled for May 27th has expired after the 30-day grace period – unfulfilled, but not for lack of capital. Russia made the repayment in rubles, however current sanctions prevent the clearance bondholders need to access the funds.
Bitvore's thematic engine has been tracking the ongoing crisis and assigning a negative sentiment around the topic. Below you can see the decline in sentiment as the 30-day grace period ended: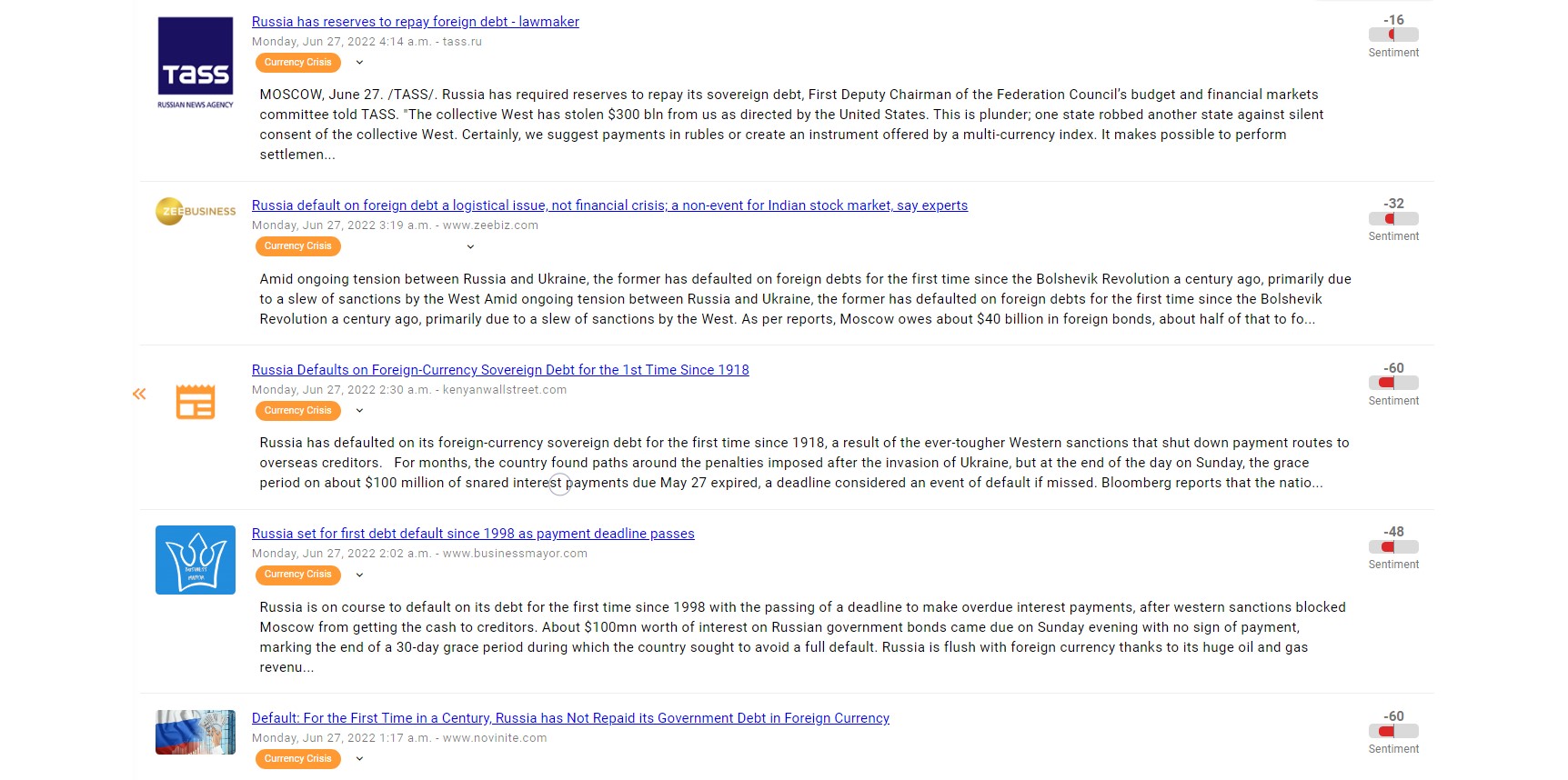 Russia made the payments to a clearing system which is ultimately prevented from assigning those funds to bondholders. Upcoming litigation is expected to decide if this qualifies as implicit default. The Kremlin thinks not. As rating agencies no longer have the authority to call this an official default, it may be up to the bond holders to determine if this will be considered a default or a failure to receive payment.
The (possible) default has not devalued the Russian Ruble – in fact, the currency is rallying against the U.S. dollar at a seven-year high. Emergency measures crafted by Moscow in the wake of sanctions seem to be keeping the economy and currency afloat. However, the impact could be more severely felt by Russian companies looking to attract foreign investment or expand into foreign markets as they continue to navigate the international sanctions.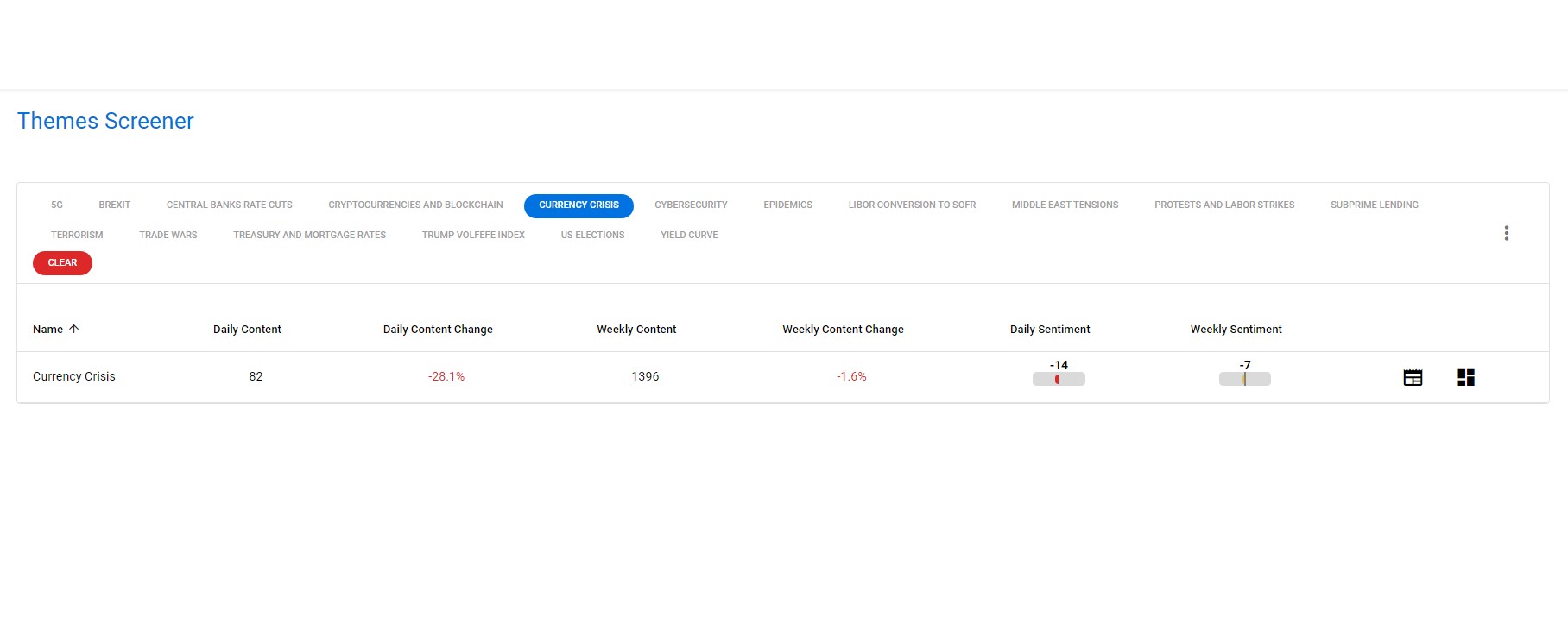 Bitvore's thematic engine will continue to track the progress of potential repayment, easing or strengthening of sanctions and the broader impact to the overall Russia economy and currency.
Trusted by more than 70 of the world's top financial institutions, Bitvore provides the precision intelligence capabilities top firms need to counter risks and explore opportunities with power of data-driven decision making.
Uncover rich streams of insights from unstructured data that act as the perfect complement to the internal data and insights your firm is already generating. Our artificial intelligence and machine learning powered system provides the ability to see further, respond faster, and capitalize more effectively.
Get in touch today to learn how the Bitvore family of products can help your organization at www.bitvore.com.