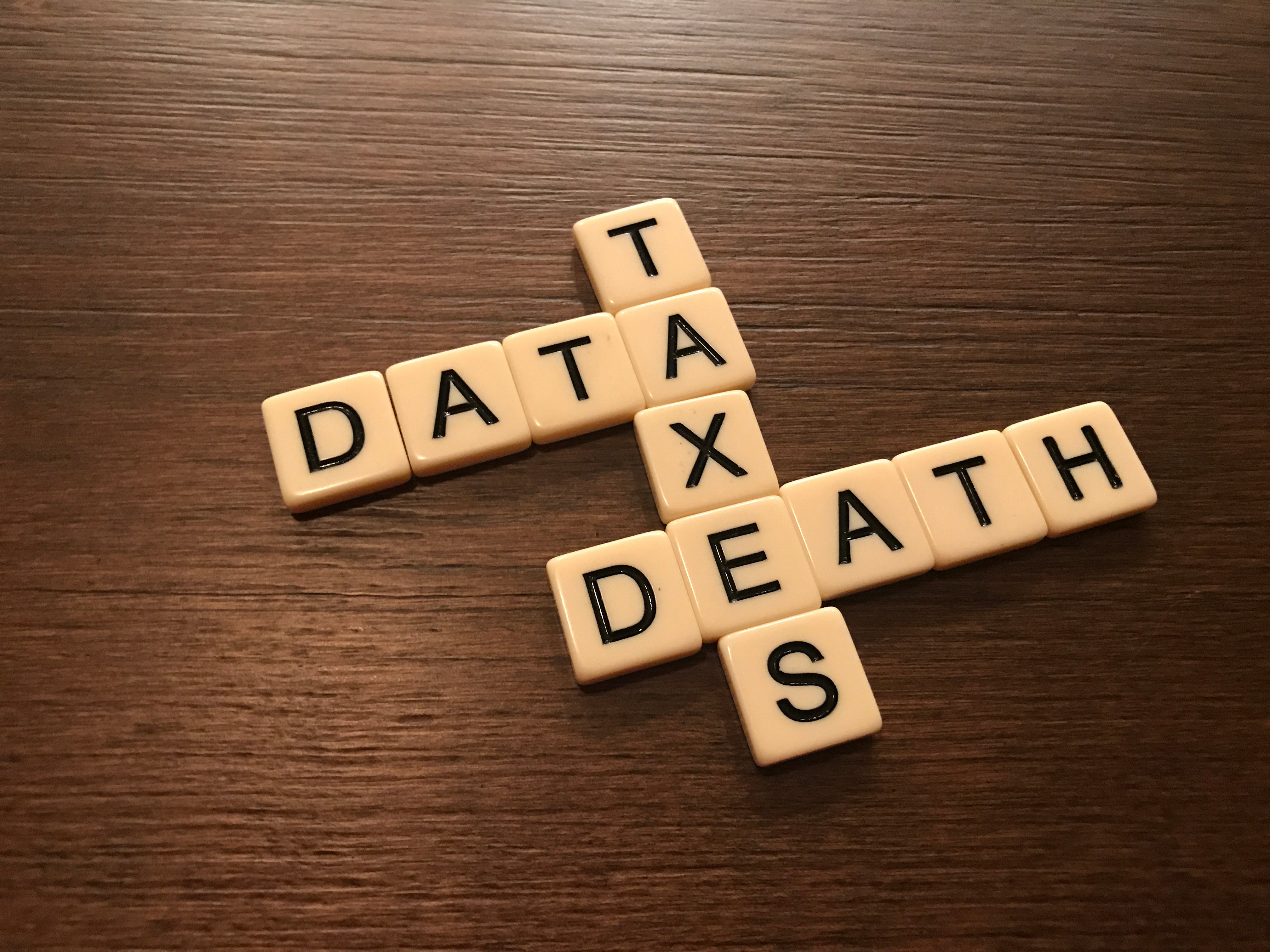 Recently, a friend added to a well-known phrase by saying that there's nothing certain in this world except death, taxes ... and data. The intersection of taxes and big data is a topic we take deathly serious at Bitvore. Sometimes, years or months before a municipality declares bankruptcy, a fiscal emergency, a budget shortfall, or cuts to city services, the first action always involves taxes.
Each day, we look at 1-3 million English-language news stories, perform deep analysis on about 10% of them, and do a final determination on whether they are newsworthy and financially-relevant for public and private financial markets or individual customers' surveillance portfolios.
About 4/10ths of 1% (0.0044%) of all vetted stories make the cut. One trend in that final tranche of open-source intelligence on the various entities we track is that tax news - whether positive or negative - is a key leading indicator of financial health.
Bitvore can uniquely identify 212 material events around municipalities. A material event is a specific news event that has a "material" impact on the financial health or stability of an economic entity, like a region, city, county, a publicly-funded organization or a major metropolitan area. A subset of these material events include tax-related events. It turns out that a municipality making adjustments multiple times during the course of a fiscal year is an early indicator of financial issues. When these policy changes fail, we typically see other material events like missed payments, fraud, or lack of ability to pay.
It's important to note that not everything ends negatively. Sometimes there are positive results like refinancing, new projects, debt consolidation, rainy day funds, and public-private partnerships.
Some of the tax changes Bitvore automatically detects include property taxes, payroll taxes, sales taxes, long-term tax base resets, tax collection windfalls/shortfalls, tax credits, tax increases, taxpayer savings, and any other number of tax-related issues like sin taxes, utility taxes, exit taxes, and amusement taxes.
Keeping track of it all, even for just a handful of areas, can be difficult. It makes it hard to see the forest from the trees. Bitvore's tagged data and APIs help sort it all out. By adding the data to an analytics visualization tool like Excel, Tableau, Domo or other visualization tools, it makes it easier to figure out what's going on.
I dug into two favorite areas that I like to track: Southern California and Illinois. The Bitvore headquarters is in Southern California, and as that old vaudeville saying goes, I like to see how things "play in Peoria".
I've included a few specific, recent examples below to demonstrate the type of information we identify.
1) Exit tax
In a recent article titled "Cities in Illinois eyeing exit tax on expensive homes", it mentions that the city of Evanston now charges a higher transfer tax, sometimes referred to as an "exit tax," on property sold for more than $1.5 million. Properties that sell for more than $1.5 million come with a transfer tax of $5 per $1,000 of the sale price. A referendum voters approved raises that to $7 per $1,000 of sale price. For properties that sell for more than $5 million, the transfer tax will now be $9 per $1,000 of sale price.
2) Loss of sales, local, or consumption taxes
In another article with the headline "Yorktown Center mall faces key loan deadline", the owner of the west suburban Lombard property in the Chicago area - a joint venture led by New York-based private-equity giant KKR - is in danger of defaulting on the shopping mall's mortgage, which matures in March, according to a Bloomberg report on the loan. About $114 million of debt on the property was recently transferred to a so-called special servicer, a firm hired to oversee troubled real estate loans.
3) Sin taxes, including rideshare and cigarette taxes, services taxes (911), property taxes
In "House Passes Pension Boost Bill for One Chicago Alderman", the story mentions that outgoing Mayor Rahm Emanuel's solutions to the city's pension crisis have largely consisted of massive multi-year tax hikes, including a property tax increase of $543 million, new taxes on ridesharing and e-cigarettes, tax increases on water and sewer services and 911 calls, and hikes in fees ranging from garbage collection to building permits. But those revenue increases have failed to tame the city's pension debt. Moreover, the city's required pension contributions are projected to more than double during the next decade.
4) Amusement taxes
Believe it or not, even Netflix and PlayStation aren't immune from this scenario. The article, headlined "Chicago amusement tax will hit PlayStation users for some purchases on the platform" certainly grabs the attention. According to the website Illinois Policy, state lawmakers have also been trying to create a statewide amusement tax on streaming services. It's no wonder residents are fleeing to other states, getting out of the Land of Lincoln.
5) More sin taxes (liquor) and service taxes (fire and police)
Well, how DOES it really play in Peoria? The piece, "Peoria gets closer to fixing $6 million budget deficit" peaked our interest. To cover the $6 million shortfall, council members have approved approximately $3 million in cuts to fire and police, cutting $1 million out of the city's capital budget, increasing a package liquor tax that's expected to raise $700,000 and increasing emergency charges set by the fire department; a move that's expected to provide about $200,000.
6) Declining property values, new tax levy
In "Decatur expects 2nd year of declining property values" the story tells of officials in the Illinois city who are expecting the value of taxable property to decline for the second consecutive year, another troublesome sign for a city government that is struggling to maintain services in the face of stagnant tax revenue.
The first thing I wanted to do was look at the relative number of critical tax-related material events at a county-by-county level. While not exactly correlated with individual cities, Bitvore tracks county government level changes. County tax policies do affect city level ones and vice versa, but I wanted to use the visualization to find areas that need deeper research.
In the first two graphics below, the darker green color means that there were more tax-related policy change announcements within that county, and lighter green means there were fewer. It's also interesting to note there are some countries that are grey. That color represents no changes in tax policies within the time frame I chose (Dec. 2017 - Dec. 2018). For California, Los Angeles County leads the pack.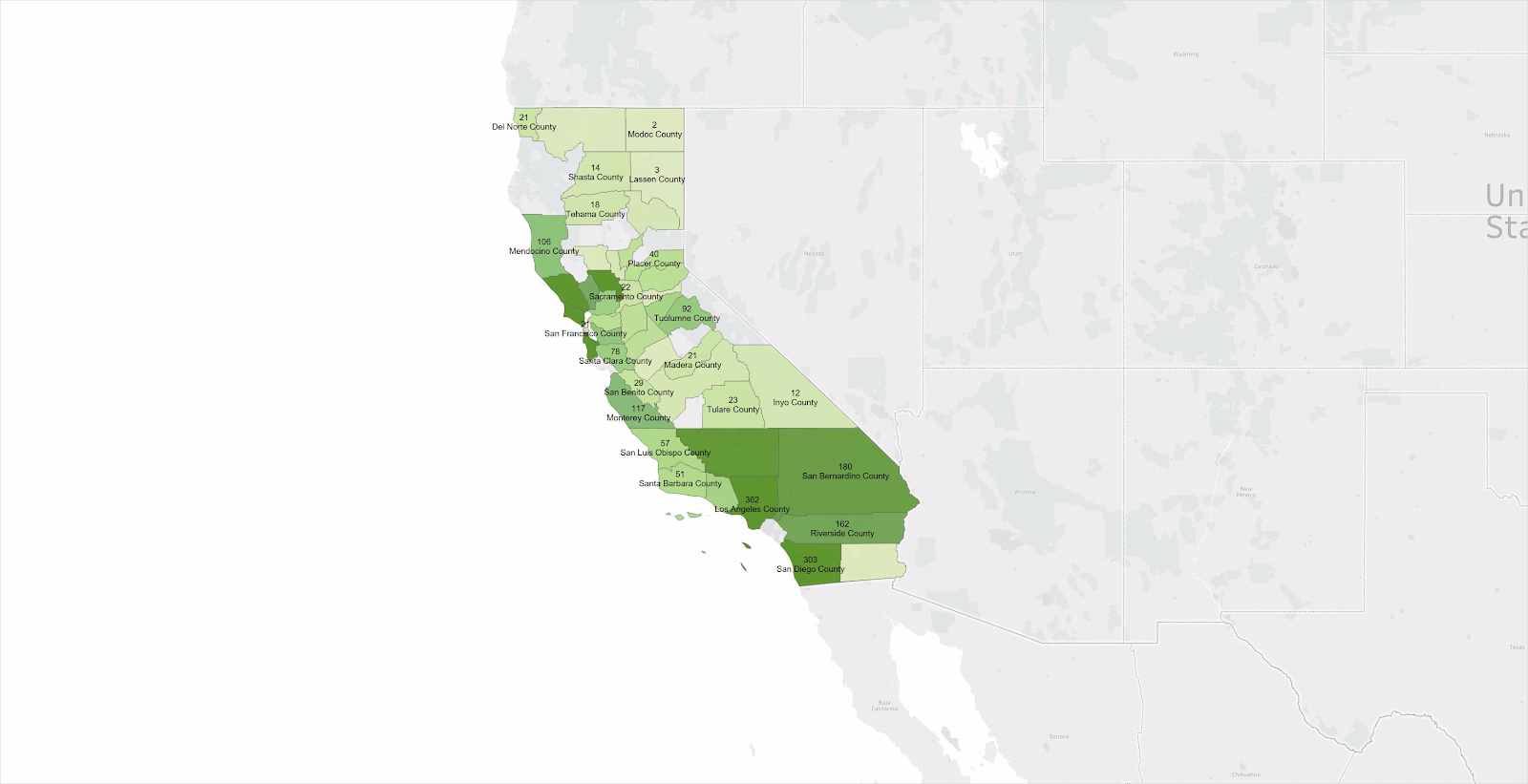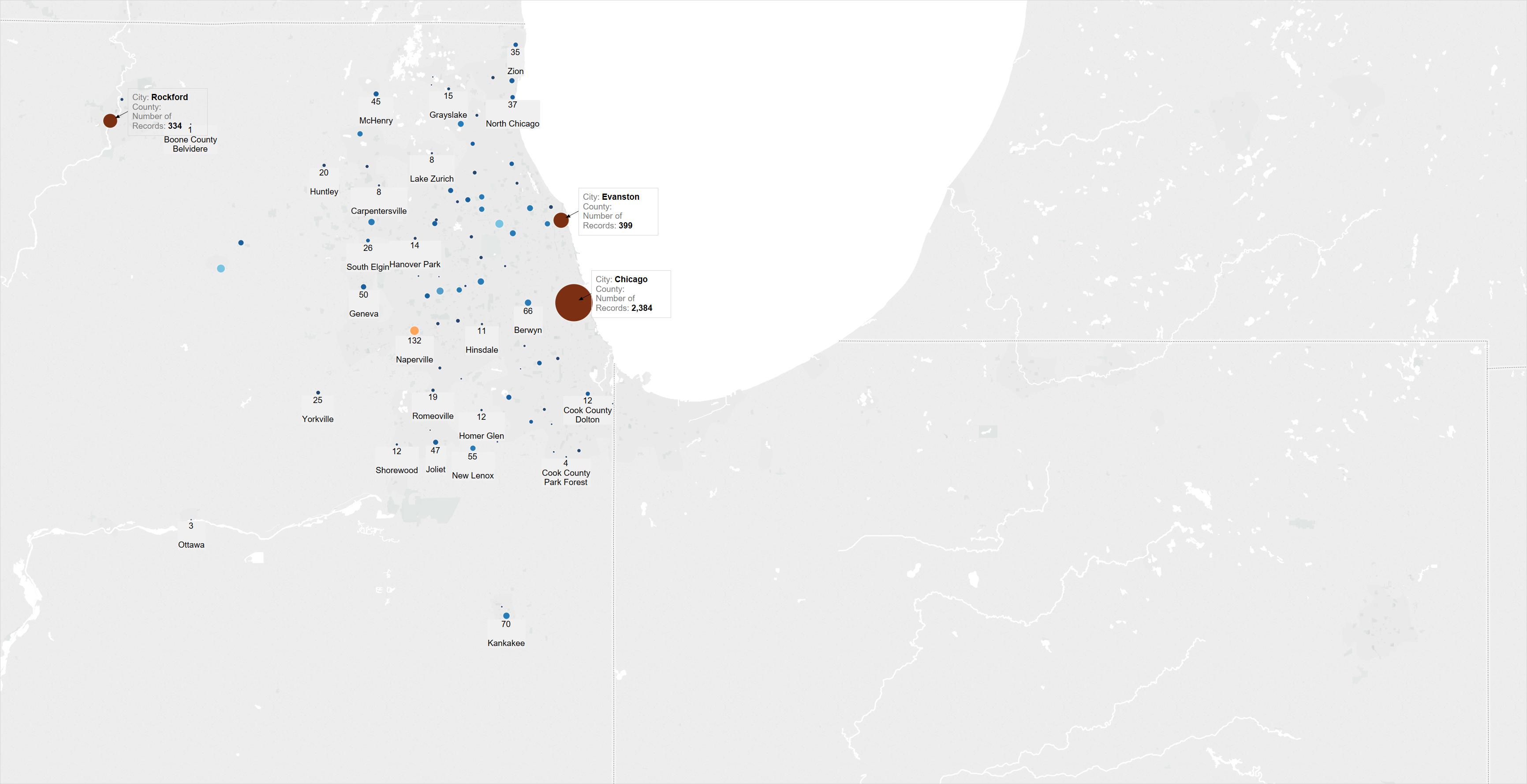 In Illinois, it's Will County, Rock County, and Sangamon County. The next step is to figure out what is actually happening inside the counties and not just at the county level.
Bitvore goes to great lengths to provide county-level information to customers who are only interested in the actual financial health of the county and not the independent municipalities contained within it.
While counties are strongly correlated with cities in California, not all counties are created equal. In Louisiana, for instance, the equivalent of a county is called a "parish". In Alaska, it's called a "borough", and in Illinois, most cities aren't governed by a county, they are governed by a home-rule municipality. There are currently 215 home-rule municipalities in Illinois.
In order to really understand what's going on, you have to dig down to the next level. The next two graphs show individual city material events around tax policy changes in both Southern California and Illinois.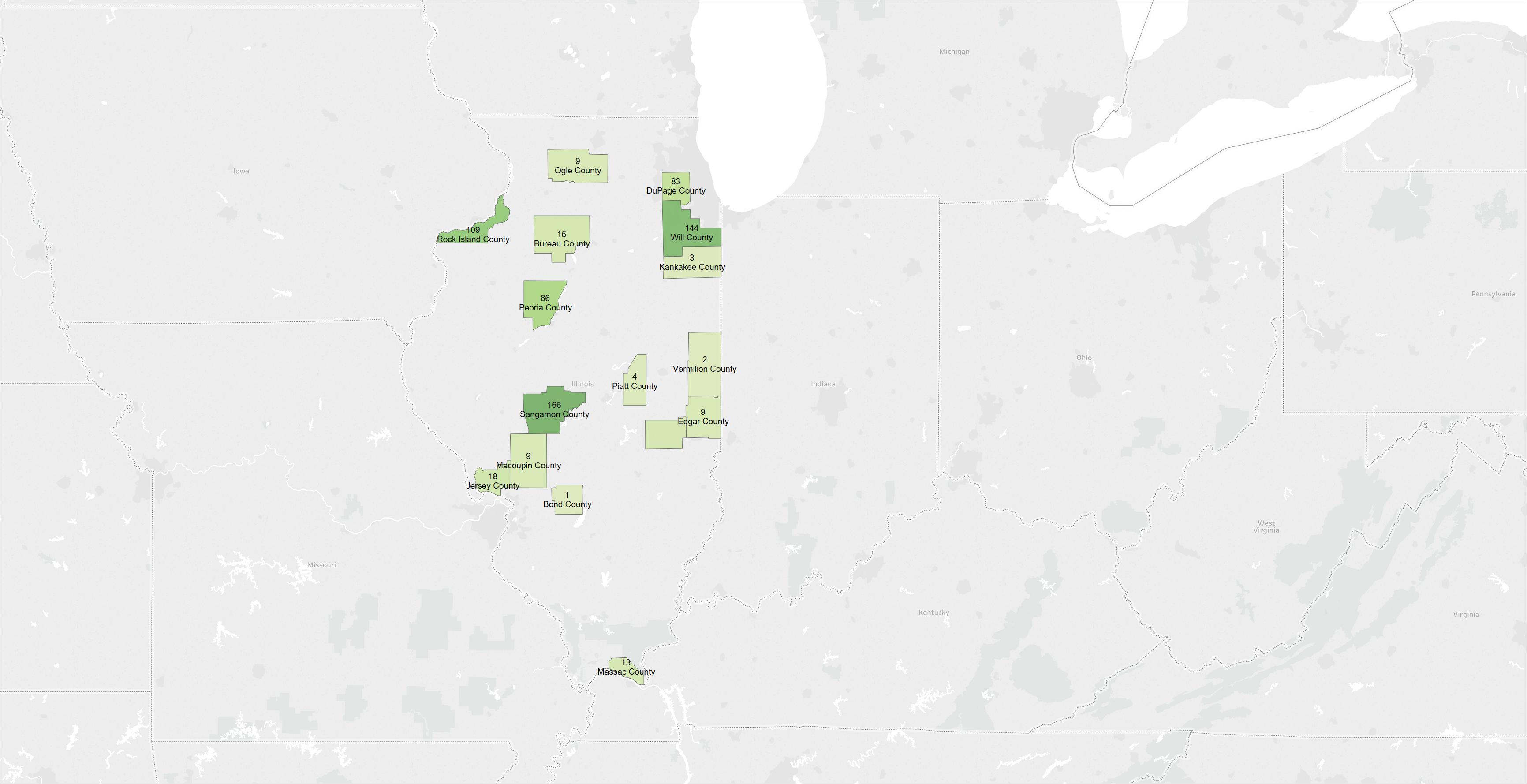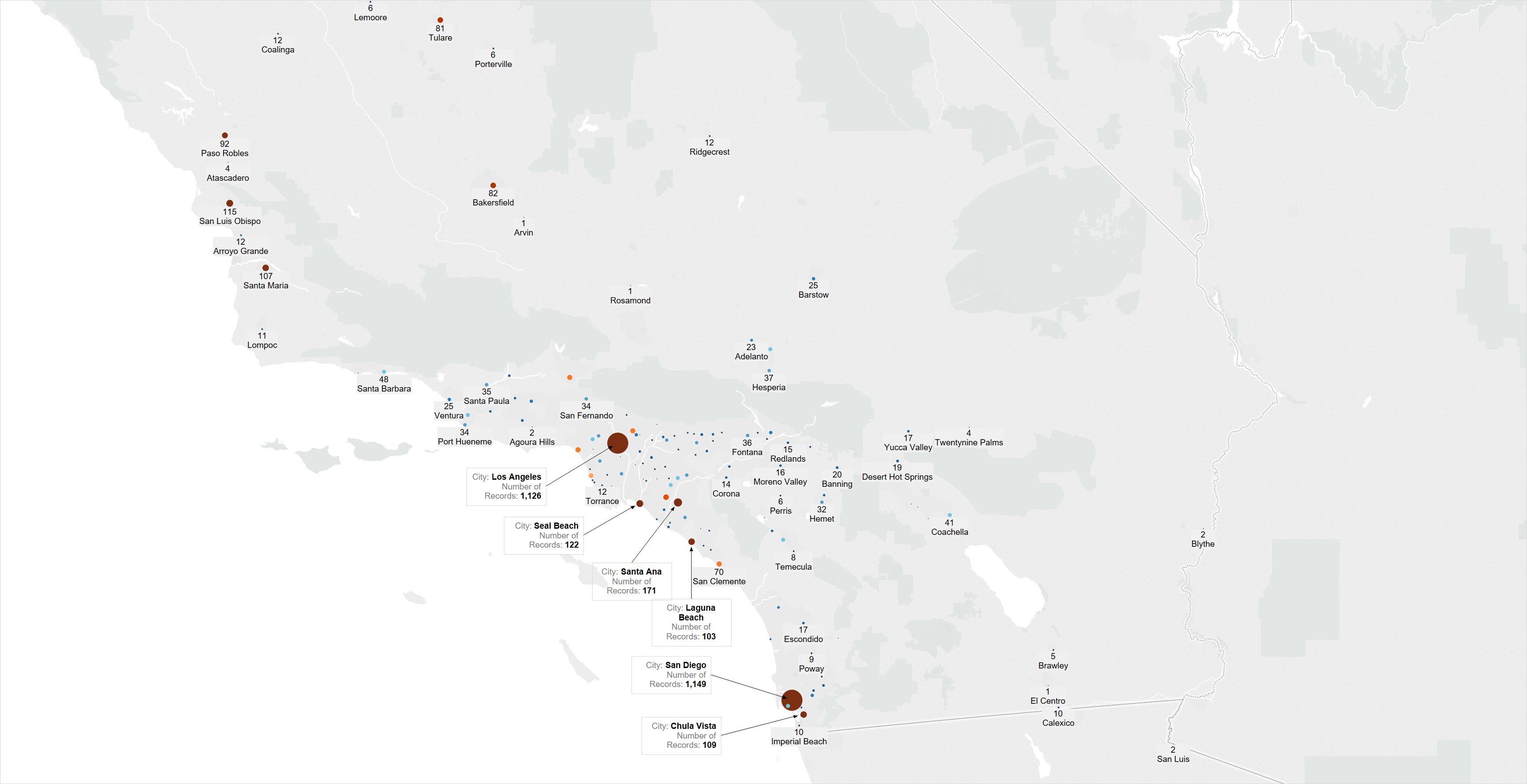 At the city level, we see a completely different view. While the numbers themselves can be adjusted for population and size of economy, they offer a good early indicator of how fluid tax policies are within that municipality. In California, Los Angeles and San Diego top the list with the most changes. Seal Beach, Santa Ana, Laguna Beach, and Chula Vista follow.
In Illinois, Chicago leads the way with Evanston and Rockford close behind. Using Bitvore to dig into each and every one of these identified municipalities shows a trail of interesting information. Lawsuits, public safety cuts, pension shortfalls, general fund revenue shortfalls, city program cuts, and all manner of tax changes.
While some of these cities aren't exactly in dire straits (just yet), it's good to discover today what the world or even the local governments themselves won't know for months. It's no surprise that 4 out of 4 municipal ratings agencies subscribe to our services. There's too much information in the world to keep a detailed watch on everything, but using AI-based analysis tools from Bitvore dramatically reduces the risk of not missing anything important.