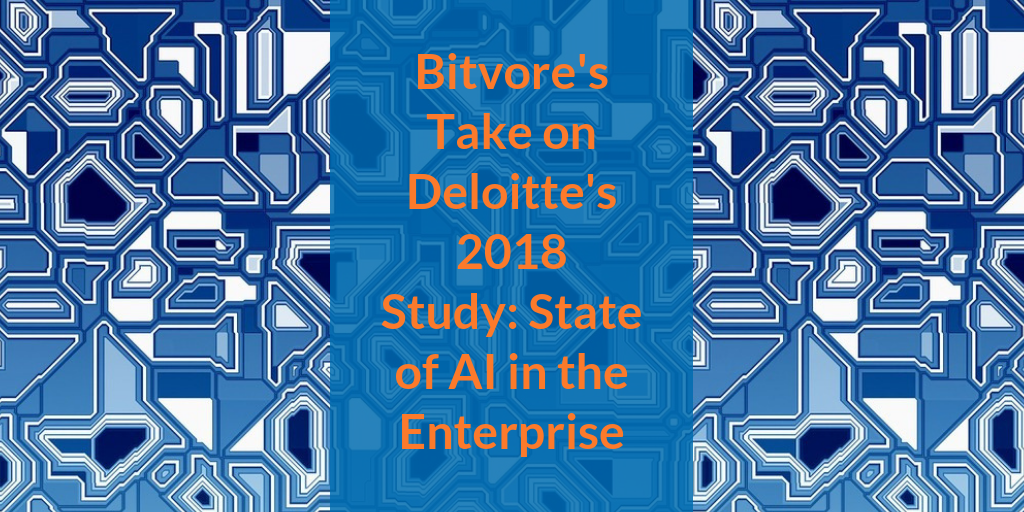 At Bitvore, we were pleased that Deloitte published their 2nd annual Edition "State of AI in Enterprise" Survey. It is no surprise to us, that these early adopters remain bullish on cognitive technologies' value.
However, the study does caution that companies must temper their excitement with the actual ability to execute on AI. It's execution that gets you every time. We take these results seriously, as this is a very reputable study of executives and technologists who are knowledgeable about cognitive technologies and artificial intelligence including 1,100 developers and implementors.
Figure 2 from the Deloitte study is telling in its message that AI helps orgs keep up:

We are not surprised that AI can be the key component in helping companies keep up and then edge out their competitors. The study points to the biggest win with a low investment, yet high return in industrial products and services. A higher investment with parallel high returns was found in Technology / media and entertainment / telecommunications, but more surprisingly in Professional Services.
And, executives are excited by the promise this technology holds, and not wallowing in a trough of disillusionment (see the Gartner Hype Cycle of Emerging Technologies). Deloitte cautions that early adopters struggle with the basics such as the behavioral changes AI will may require throughout the organization including threat of job loss. The "last mile" is always the most challenging in order to get the true ROI from AI, says Deloitte. Cyber security risks are frequently noted as a concern that can thwart AI implementation.
The study also discusses the types of talent that companies need to truly excel in AI such as AI Researchers, AI Software Developers, and the all important Data Scientists. This list should be required reading for any high school or college student looking to get into "tech."
Figure 9 from the Deloitte Study shows that the Top three AI use cases are actually in IT.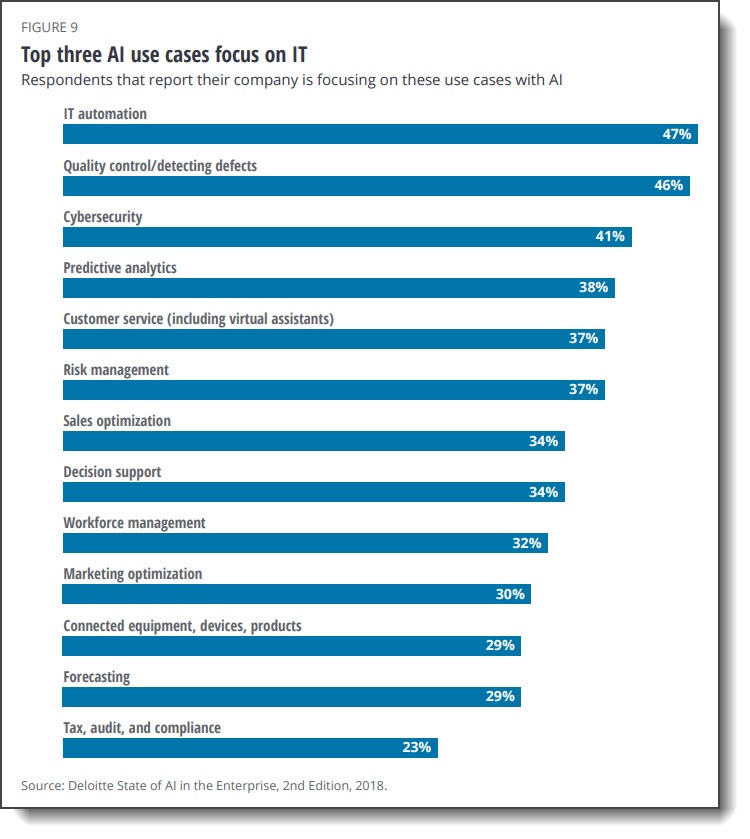 The Deloitte "State of AI in the Enterprise, 2nd Edition, 2018" is required reading for both dreamers and developers of what is next with AI. Bitvore applauds Deloitte's final words of advice to "GET SERIOUS" about AI. Now is the time to select the business use cases and start taking steps towards the vision and the promise of AI.
And if you want to learn more about how Bitvore uses AI and machine learning to push only relevant information concerning the marketings and customers you care about straight to your desktop: