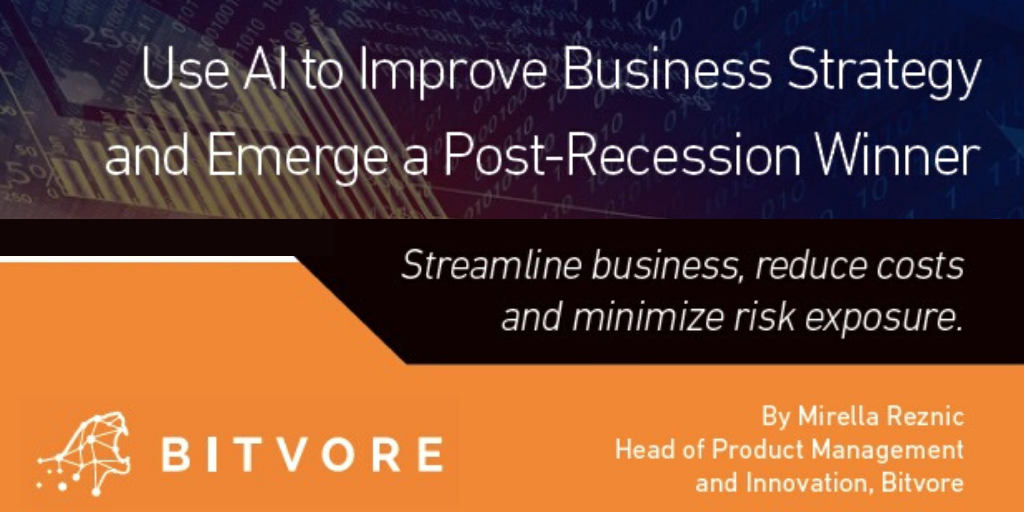 With a slowing economy and disruptions from COVID-19, now is the right time to focus on mitigating risks and recession-proofing your business.
Over the coming months, companies will be reconciling the impacts of COVID-19, and the related economic fallout, on their businesses. They will be looking for ways to streamline, reduce costs and minimize risk exposure to mitigate impact. AI has evolved exponentially since the Great Recession and financial Institutions are poised to capitalize on these developments to position themselves for strong performance post-recession. The companies that accelerate their AI adoption through the recession will gain a significant competitive advantage and emerge as winners. Those that don't will fall even farther behind and continue to struggle.
Bitvore Cellenus fits perfectly into any recession-proofing plan. It eliminates the burdens of manual research, allowing teams to focus on critical work like credit underwriting, AML/KYC, and relationship management. Most importantly, Bitvore Cellenus helps clients surveil their portfolios, scouring through millions of records of unstructured content daily to identify emerging risks. Our sentiment analysis provides a quantifiable measure of a company's overall risk and growth. When linked with your internal data, like credit/loan defaults and loss ratios, it can help you identify risk triggers.
Download the white paper below to learn how Bitvore Cellenus can help alleviate manual burdens and drive better risk mitigation tactics in a time of uncertainty.