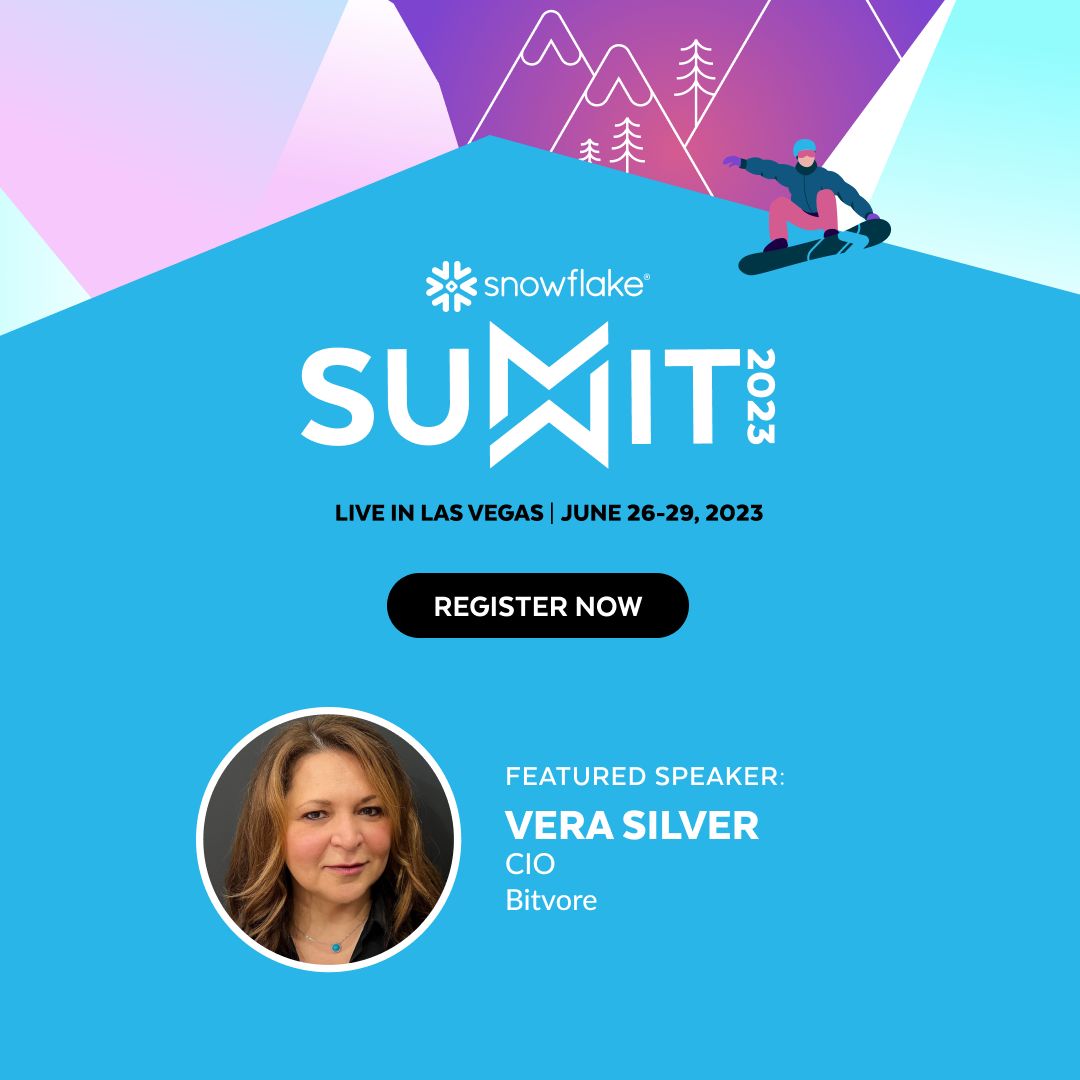 Bitvore CIO Vera Silver will be among the speakers at next week's Snowflake Summit 2023, which will take place at Caesars Forum in Las Vegas from the 26th to the 29th of June.
This annual event is focused on helping attendees learn how to access, build, and monetize data, tools, models, and applications in ways that were previously unimaginable. Attend to hear all about the latest innovations coming to the Data Cloud, including advancements with generative AI and LLMs, Apache Iceberg, flexible programmability, application development, and much more. Hear from hundreds of technical, data, and business experts about what's possible for you and your organization in a world of data collaboration.
The CIO Executive Panel session is at 11.00am (Pacific Time) on Wednesday 28th June. The panel will be hosted by Sunny Bedi, Snowflake's Chief Information & Data Officer. Vera's fellow panel speakers are Alvina Antar (CIO, Okta), Ken Grady (SVP & CIO, IDEXX Laboratories) and Desikan Madhavanur (Chief Technology Officer & Chief Product Officer, Capital One).
With data and technology becoming increasingly important, an organization's success depends on whether the CIO can move from being a functional to a strategic business leader capable of powering business transformation. Join this panel to hear how fellow CIOs are using the Data Cloud to drive efficiencies, scale, and power growth for their organizations.
Full event details can be found here.
If you are planning to attend the event and you would like to meet Vera please email vsilver@bitvore.com. Or to learn how the Bitvore solutions can help your organization visit www.bitvore.com.
Trusted by more than 70 of the world's top financial institutions, Bitvore provides the precision intelligence capabilities top firms need to counter risks and drive efficiencies with power of data-driven decision making.
Uncover rich streams of risk and ESG insights from unstructured data that act as the perfect complement to the internal data and insights your firm is already generating. Our artificial intelligence and machine learning powered system provides the ability to see further, respond faster, and capitalize more effectively.