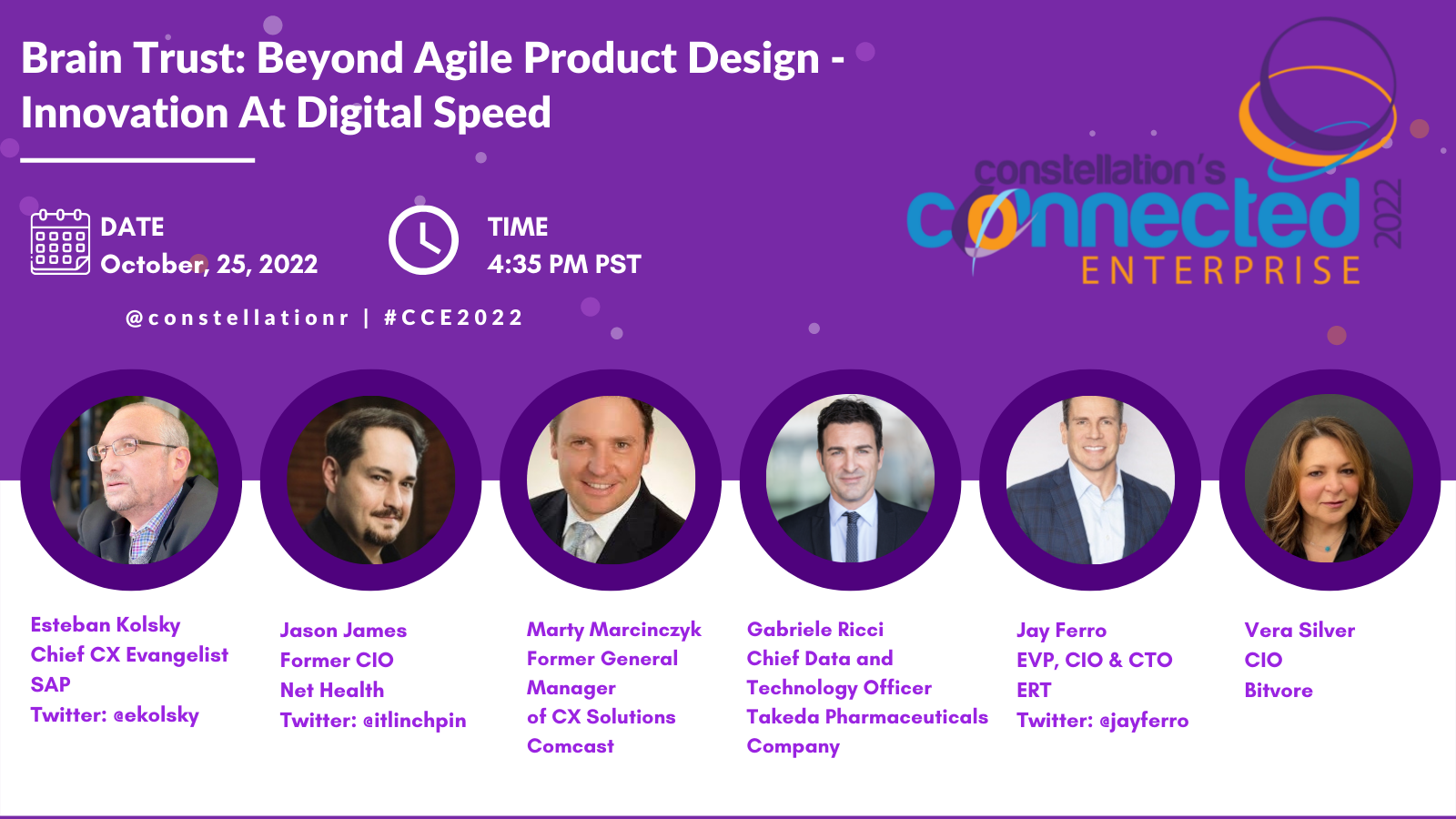 Connected Enterprise is an immersive three-day innovation summit and executive retreat that features 1:1 interviews with visionary market makers, executive exchanges, fireside chats and disruptive technology demos.
Executives from across the globe, including leaders from American Tower, Barclays, Beazer Homes, Centurion Health, Commonspirit Healthcare, Epic Games, Equifax, Estee Lauder, General Electric, H+M, Honeywell, Ingram Micro, Johnson Controls, JP Morgan Chase, Keller Williams, Mars Global, Mastercard, NTK/NGK, Unity 3D, Walgreen's Boots Alliance, and the U.S. government, attend the conference and leave with the knowledge and network to instil a culture of innovation and transformation for their organizations. The event runs from October 24th to 27th and takes place at the Ritz-Carlton Half Moon Bay, in Half Moon Bay, California.
Our CIO, Vera Silver, will be a speaking about "Brain Trust: Beyond Agile Product Design - Innovation At Digital Speed" at 4.35pm on Tuesday 25th October.
The panel session will be moderated by Esteban Kolsky, the Principal and Founder of ThinkJar. Four other industry experts will join Vera on the panel; Jay Ferro the Chief Information & Technology Officer at ERT, Jason James the Former CIO at Net Health, Marty Marcinczyk the former General Manager of Customer Experience Solutions at Comcast and Gabriele Ricci the Chief Data and Technology Officer at Takeda Pharmaceuticals Company.
Trusted by more than 70 of the world's top financial institutions, Bitvore provides the precision intelligence capabilities top firms need to counter risks and drive efficiencies with power of data-driven decision making.
Uncover rich streams of risk and ESG insights from unstructured data that act as the perfect complement to the internal data and insights your firm is already generating. Our artificial intelligence and machine learning powered system provides the ability to see further, respond faster, and capitalize more effectively.
If you are planning to attend Connected Enterprise and you would like to meet Vera please email vsilver@bitvore.com. Or to learn how the Bitvore solutions can help your organization visit www.bitvore.com.