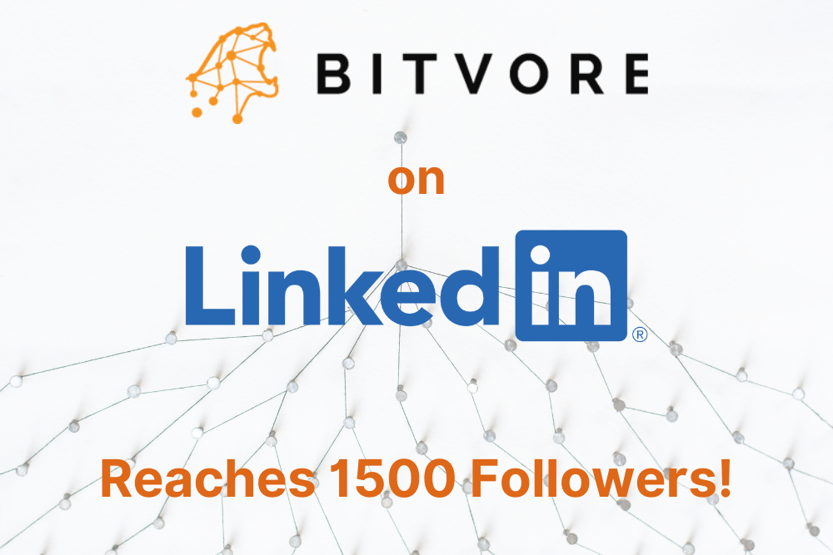 We are excited to share that Bitvore recently hit the 1,500+ follower mark on our LinkedIn company page. A huge thank you goes out to everyone who follows us, likes our posts, and shares our content. We really appreciate your support and enjoy engaging with you.
Not a follower yet?
We'd love it if you joined our LinkedIn community! All you have to do is visit our page and then click the blue "+Follow" button.

4 reasons to follow us:
Not sure if you really want to follow us? Here are a few reasons why you should!
Find out about the latest Bitvore products and solutions enhancements and releases.
Get insights and best practices from our thought leaders.
Find out what conferences, webinars and other events we are attending and hosting.
Learn about new career opportunities.
Trusted by more than 70 of the world's top financial institutions, Bitvore provides the precision intelligence capabilities top firms need to counter risks and explore opportunities with power of data-driven decision making.
Uncover rich streams of ESG and risk insights from unstructured data that act as the perfect complement to the internal data and insights your firm is already generating. Our artificial intelligence and machine learning powered system provides the ability to see further, respond faster, and capitalize more effectively.
Get in touch today to learn how the Bitvore family of products can help your organization at www.bitvore.com.