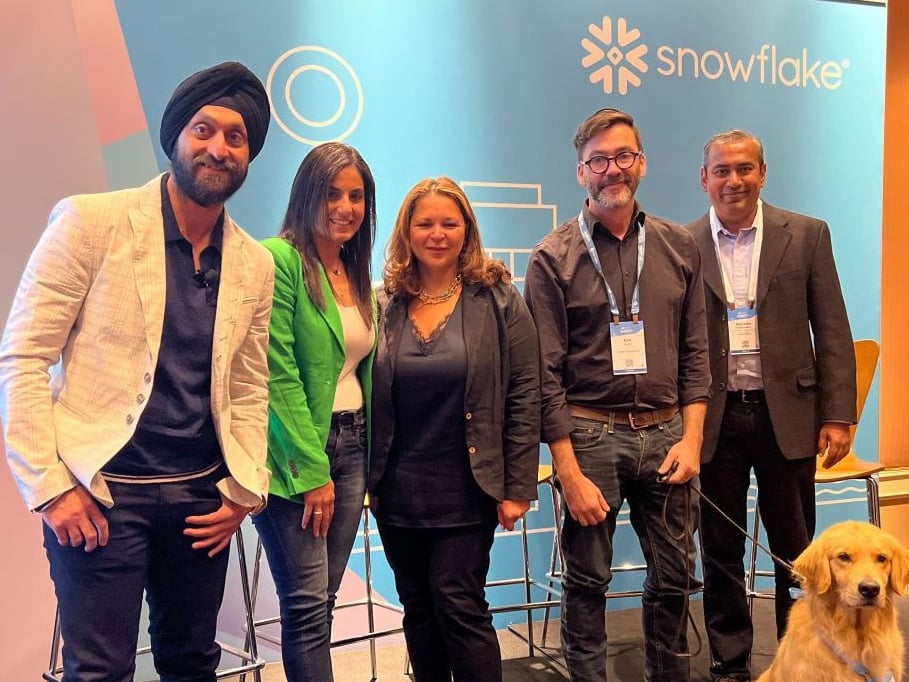 I had an awesome time speaking at Snowflake Summit 2023. It was really nice to be able to attend such a large and vibrant in-person event again.
This annual event was focused on helping attendees learn how to access, build, and monetize data, tools, models, and applications in ways that were previously unimaginable. Attendees learned about the latest innovations coming to the Data Cloud, including advancements with generative AI and LLMs, Apache Iceberg, flexible programmability, application development, and much more. There were literally hundreds of technical, data, and business experts there, a very worthwhile event.
I joined the CIO Executive Panel session, which was beautifully hosted by Sunny Bedi, Snowflake's Chief Information & Data Officer. My wonderful fellow panel speakers were Alvina Antar (CIO, Okta), Ken Grady (SVP & CIO, IDEXX Laboratories) and Desikan Madhavanur (Chief Technology Officer & Chief Product Officer, Capital One).
With data and technology becoming increasingly important, an organization's success often depends on whether the CIO can move from being a functional to a strategic business leader capable of powering business transformation. During the panel we discussed the different ways we are all using the Data Cloud to drive efficiencies, scale, and power growth for our organizations and our clients.
Early in my career I realized the power of advanced data intelligence. High adoption of a flexible platform that allows users to add new variables or new sources of information, and the ability to tap into high quality reference and transaction data are key to successful analytics processes and disciplines.
A mature and well managed AI platforms creates tremendous opportunities to increase productivity and enhance intelligence in high touch environments. At Bitvore we remain committed to delivering data, analytics and AI driven solutions that add value to our client's analytics, investment and risk processes.
Thank you to my fellow panel-mates for such wonderful insights. For me the one topic we discussed that really seemed to resonate with the audience was the importance of "good" data to drive analytics processes. No doubt with the relentless growth in AI tools and platforms adoption we will see an increasing focus on the sources and the quality of the data that underpins analysis.
Miss Nothing With Bitvore's Automated Intelligence
Trusted by more than 70 of the world's top financial institutions, Bitvore provides the precision intelligence capabilities top firms need to counter risks and drive efficiencies with power of data-driven decision making.
Uncover rich streams of risk and ESG insights from unstructured data that act as the perfect complement to the internal data and insights your firm is already generating. Our artificial intelligence and machine learning powered system provides the ability to see further, respond faster, and capitalize more effectively.
To learn how the Bitvore solutions can help your organization visit www.bitvore.com.