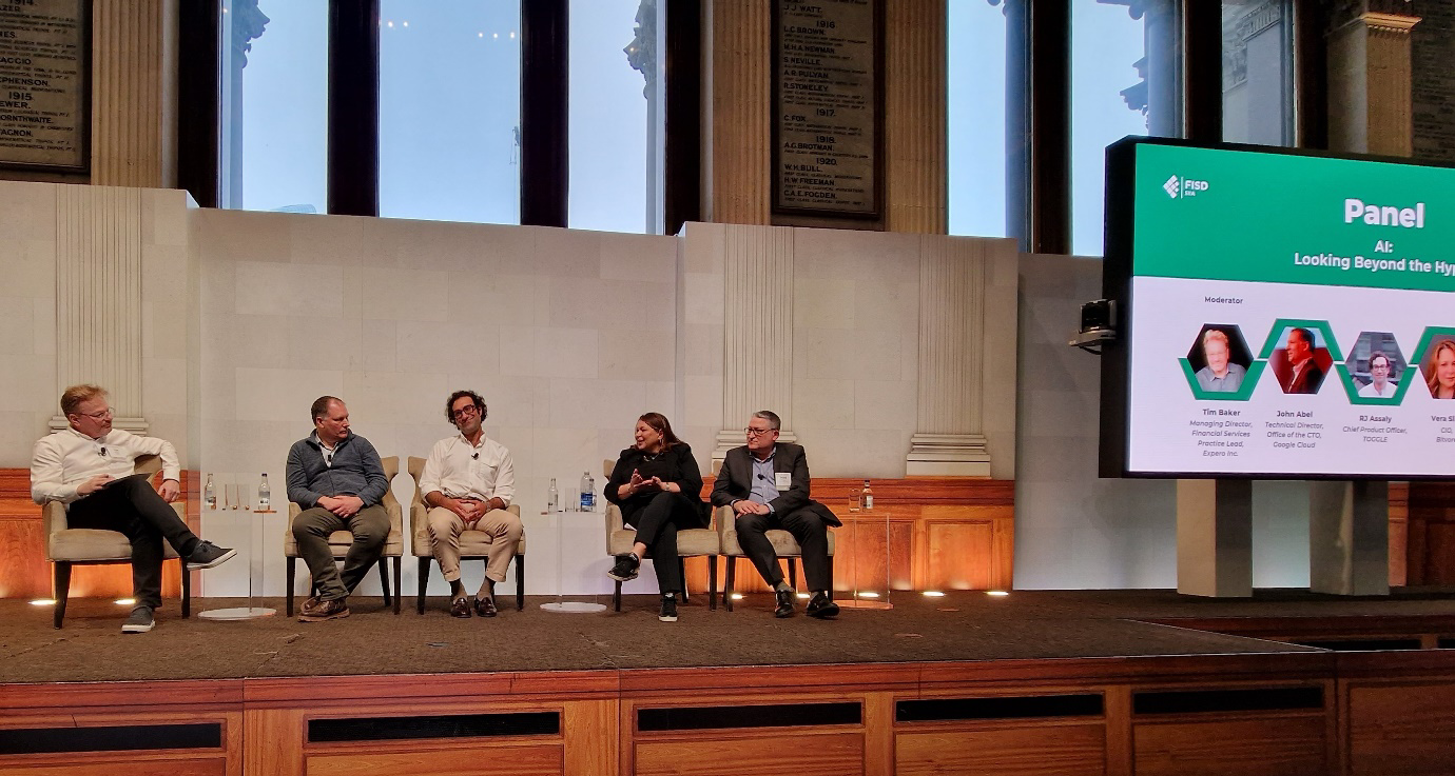 I had an awesome time speaking at the FISD London Tech Forum event last week in London. It was really nice to be back in beautiful, if a bit rainy, London.
Our panel session "AI: Looking Beyond the Hype?" was a lively discussion skillfully moderated by Tim Baker, Managing Director and Financial Services Practice Lead at Expero Inc.
My other fellow panel members were John Abel (Technical Director, Office of the CTO at Google Cloud), RJ Assaly, (Chief Product Officer at TOGGLE) and Mike Wright (Head of Market Data Technology at Deutsche Bank).
Our session was very well attended at the stunning Embankment JP Morgan building overlooking the Thames. For those who don't know, the FISD it is a global forum for industry participants to discuss, understand and facilitate the evolution of financial information for the key players in the value chain including consumer firms, third party groups and data providers. Members typically attend events to identify trends that will shape the industry, seek education opportunities and learn about industry initiatives that may affect them or their firms.
We covered a number of topics during our panel session. Needless to say, ChatGPT was discussed and referenced a number of times. Financial services businesses are increasingly leveraging cloud-based solutions to store, process and analyze large amounts of data, as well as to improve scalability and reduce cost. The growth of the use of and adoption of AI models and processes, often facilitated by cloud adoption, to enhance analysis disciplines is increasing daily.
The extent of and need for human intervention, guidance or control was discussed, particularly around trading. I don't think anyone feels it would be prudent to let AI replace human traders or investors anytime soon. Where I believe there is real consensus is that advanced AI process are now offering streams of information previously unavailable, or very had to access.
With up to 90% of the data generated globally every day being unstructured, only AI can access the insights hidden at scale. Obviously, data becomes less useful when it can't be accessed easily and used effectively. Without unlocking data, organisation will find themselves operationally and competitively disadvantaged, or even vulnerable to regulatory censure. As we've all seen illustrated over the last few days as the events of SVB unfolded, timely accessible insights to drive decisions remains a key area where technology can be appropriately deployed and solutions designed to help organisations achieve their goals.
Trusted by more than 70 of the world's top financial institutions, Bitvore provides the precision intelligence capabilities top firms need to counter risks and drive efficiencies with power of data-driven decision making.
Uncover rich streams of risk and ESG insights from unstructured data that act as the perfect complement to the internal data and insights your firm is already generating. Our artificial intelligence and machine learning powered system provides the ability to see further, respond faster, and capitalize more effectively.
To learn how the Bitvore solutions can help your organization visit www.bitvore.com.